Secured Visa® Credit Card
Newhomeprograms.com Secured Visa® Credit Card
We offer a Secured Visa® Credit Card for those who need to establish or rebuild credit history. Learn more about our Secured Credit Card today!
Apply For A NewHomePrograms.com Secured Visa® Credit Card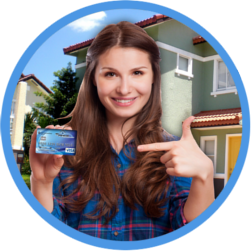 Ideal for: Just starting out or rebuilding credit
If you have less than one year of major credit card history OR you know you need to work on improving damaged credit because you have:
Been declined for other unsecured cards recently or
Missed bill payments or
Been contacted by a bill collector in the last year
Our Secured Visa® Credit Card, when used responsibly, can help build and improve your credit record.
Did you know that, according to myFICO.com, 35% of your FICO® Score is based on your payment history? Another 15% of your FICO® Score is based on the length of your credit history. If you do not have an established credit history, it can be difficult to build a credit score high enough to qualify for a mortgage loan. Based on our experience at NewHomePrograms.com, many mortgage lenders are also requiring clients to have at least 2 open trade lines2 before they will agree to help finance a home.
For this reason, the NewHomePrograms.com Secured credit card can be a smart way to begin building a positive credit history. The NewHomePrograms.com Secured Visa® Card is a major credit card (provided by First Bankcard®) secured by a cash deposit and an annual $19 annual fee3. Deposits are as low as $3001 per Secured card, and First Bankcard® is willing to accept your deposit via our online application.
If you do not currently have 2 open trade lines on your credit report, consider applying for a Secured Card to help you establish a positive credit history.
This is a solicitation for a credit card – Secured Visa® Credit Card
Please see the Summary of Credit Terms for important information on rates, fees, costs, conditions and limitations.
The amount of your security deposit is the amount of your credit limit, subject to credit approval.
A "trade line" is a credit industry term for an account recorded on a credit report.
For additional information about Annual Percentage Rates (APRs), fees and other costs, please see the Summary of Credit Terms.
Cards are issued by First Bankcard®, a division of First National Bank of Omaha, pursuant to a license from Visa U.S.A. Inc. VISA is a registered trademark of Visa International Service Association and used under license.
Testimonials
I found them accidentally and I'm so happy I did. I dragged my husband on Father's Day for a free two hour seminar and even he was happy I found them. I love our realtor Reshunda. She was polite and very well informed. She's always available to ask any questions we may have and I'm excited to be on this journey with her.
Lizzette M Andino - July 8, 2017